WE ARE:
EXPERIENCED. CREATIVE. CUSTOMER SERVICE ORIENTED. PROACTIVE. RELIABLE.
YOUR TALENT.
OUR PRIORITY IS YOUR SUCCESS.
With experience in a multitude of industries and digital platforms, our team is ready to think outside the box and take your business to the next level.
Candace Ellington
CEO
Things Candace Likes
Superbowl Commercials, Family, Friends, Napa Valley Wine, Avengers Movies, Raiders, Sacramento Kings, Holidays.
Things Candace Doesn't Like
Fast Food, Romantic Comedies, Bad Coffee, Horror Films, Tacky Graphics, Traffic Tickets, Cheap Wine.
Experience in
Overseeing Brands, Fantasy Football, Graphic Design, Social Media & Digital Advertising, Chasing Toddlers, Text & Email Campaigns.
Angel-Ty Lebron
Director of Marketing
Things Angel Likes:
Playing Chess, Loud Obnoxious Music, Brazilian Jiu-Jitsu Training, Weight Lifting, Computer Hardware, and Real Estate Investing
Things Angel Doesn't Like:
Humidity, NYC Subway, Open Mouth Chewers, Not Having A Plan, and Misplacing Anything
Experience In:
Google Ads, Google Tag Manager, Google Analytics, Bing Ads, Data Analysis, and PPC Consulting
Brian E. Van Dyk
Chief Financial Officer
Things Brian Likes
Road Biking, Mountain Biking, Nature, OAKLAND Raiders, Fantasy Football, Family, Reading, Music, Playing Guitar, Coffee, Breakfast, Red Wine.
Things Brian Doesn't Like
Cold Sandwiches, Traffic Jams, Rap Music, People Arguing in Public, Dishonest People, Smiling In Photos, When the Beginning of Someone's Sentence Interrupts The Middle of Mine.
Experience in
Executive Management, Project Management, Team Management, Sales Management, Information Security, Systems Integration, Real Estate, Finance, Contract Negotiation, Computer Programing, and Mario Kart.
Charlene Hamberger
Digital Marketing Officer
Things Charlene Likes
Reading, Writing, Music, Spending Time with Family and Friends, Crafting, Boba, Starbucks, Technology, the Internet, Talented People.
Things Charlene Doesn't Like
Sloppy Social Media, Ignorance, the Second Definition of "Literally" (Added Recently), Onions.
Experience In
Typing, Computers, Court Work, Social Media, Transcribing, Crafts, Music, Blogging.
Casey Kirk
Senior Copywriter
Things Casey likes: 
My Dog, Your Dog, Paper "To Do" Lists, Leather Journals, Hygging, Charcuterie Boards as Meals, Scuba Diving, Brainstorm Sessions, Aha! Moments.
Things Casey doesn't like:
Weather Chat, Hot Coffee, Gloomy Days, Traffic, My Garlic Allergy, Creative Blocks.
Experience in:
Social Media Marketing, Email Marketing, Copywriting, Journalism, Making Everyone Laugh in Tense Situations.
Diana Chong
Digital Content & Graphic Design Director
Things Diana Likes:
Her Dog Abby, Food, Coffee, Photography, Bargain Hunting, Karaoke, Comedy, NBA, NBA Storylines, Cute Stuff, Creative Design
Things Diana Doesn't Like:
Inefficiency, Chaos, Sitting in Traffic
Experience In:
Graphic Design, Copy Writing, WordPress, Drupal, Social Media, Classical Piano, Program Management
Ryan McBride
Web Development Director
Things Ryan Likes
WordPress, Clean Code, Creating Themes from Scratch, Low CPCs, High EPCs, Client Success.
Things Ryan Doesn't Like
WordPress Sites Pieced Together Using a Poorly Coded Theme with a Ton of Plugins, Ineffective Marketing Strategies, Slow Hosting.
Experience In
HTML, CSS, Javascript, jQuery, PHP, SQL, Photoshop, Illustrator, InDesign, Facebook Ads, Google AdWords.
Nalin Herath
Senior Developer
Things Nalin Likes:
Food, DC & Marvel Movies, Traveling, Animated movies, Occasional drink with friends.
Things Nalin Doesn't Like:
Politics, Too much Social media, Wife's imaginary friends, and Sweets.
Experience In:
WordPress, Web site Design and Development, UI/UX design, Project & Team Management, Digital Strategy Planning.
Ali Asgher
Web Developer
Things Ali Likes
Horse Riding, Table Tennis, Traveling, Chicken Wings, A Good Laugh, Desi Food, Fascinating Technologies
Things Ali Doesn't Like
Waiting, Cold Weather, Dusty Environments and Mushrooms
Experience In
WordPress, Website Design and Development, UI/UX design, Project & Team Management, Digital Strategy Planning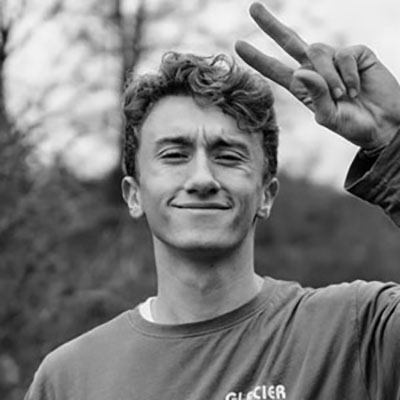 Evan Risucci
Videographer/Content Specialist
Things Evan Likes

Filming, Editing, Taking Photos, Challenges, Hiking, Surfing, Running, Fast Internet, Long Drives.
Things Evan Doesn't Like
Slow internet, Kiwis, Bad Traffic, When I don't get enough likes on Instagram, 2GB of Ram.
Experience In
Video Editing, Videography, Aerial Photography and Videography, Photography, Making work fun.
Ryan Atkinson
Technology And Innovation Specialist
Things Ryan Likes:
Walking, Biking, Reading, Being active, Good Conversations, Traveling, The Carolina Panthers, The Boston Celtics, Well-Produced Movies, Shows, or Podcasts, Living in Austin, Texas, A Good Night of Sleep
Things Ryan Doesn't Like:
Not Being on Time, Non-friendly People, Manual and Tedious Work, Cold Weather, Having Car Problems
Experience In:
Podcast Hosting, Podcasting Production, Digital Marketing, Software Sales, Content Creation
Gurpreet Singh
SEO Specialist/Director
Things Gurpreet Likes
Exercise, Exploring Places, Music, Food, The Beauty of Nature, Suspense and Thriller Movies, Family and Friends.
Things Gurpreet Doesn't Like
Making Fun of Others, When Things Are Not Well Organized, Summer Days.
Experience in
SEO, Digital Marketing, Traffic, Ranking, Strategy Planning, Leads, Social Media, Copywriting, Editing.
Ramon Trinidad
CRM Specialist
Things Ramon Likes
Music, Playing Guitar or Piano, Coffee, NBA, Automation, AI, Mind Blowing Movies and Series, Traveling.
Things Ramon Doesn't Like
Rainy Season, Sitting in Traffic, Cold Coffee in the morning, Negative Vibes, Too much chili pepper.
Experience in
CRMs, WordPress, Sales Funnel, Marketing Automation, Process Documentation, Learning Management System, Electrical Engineering, Automated Testing Equipment, Integrated Circuit Testing.
Reed Willard
Editor
Things Reed Likes
Spending time with family, acting, hiking, writing, Fall, live music, horror/thriller movies, traveling, Mexican food, reading, the mountains.
Things Reed Doesn't Like
Snakes! Traffic, rudeness, romcoms, cold water, celery, pop and/or country music, false advertising, being late.
Experience in
Acting, writing, editing/proofreading, long distance hiking, singing (unprofessionally), VO, beatboxing, and bargain shopping.
Gamaliel Ortiz
Creative Content Writer
Things Gamaliel Likes
Good Writing, Being A Tormented Kings Fan, Poker, Politics, Food Adventures, Dogs, Piano Music, Concerts, Day Trips, History.
Things Gamaliel Doesn't Like
Slow Starts To Movies, Sushi, Missing Happy Hour By Minutes.
Experience in
Digital Journalism, News Writing And Editing, Blogging, Social Media, Video Editing, TV News.
Tauseeq Ashraf
Billing Coordinator
Things Tauseeq Likes
Marketing, Traveling, Long Drives,
Lo-fi Music, Scuba Diving.
Things Tauseeq Doesn't Like
Concerts, Early Sleeping, Dance Parties, Hot Weather.
Experience in
Lead Generation, Social Media Management & Marketing, Data Analytics, eCommerce.